HELLO!
I'm Brad, founder and designer of Geekey; a new multi-tool that will change the way you look at, and use, multi-tools. We say that it was designed for the modern geek, but in reality everyone will find many uses for this toolbox stored on your keychain.
A designer from birth and a professional for over 15 years, my passion for beautiful, innovative solutions and brilliant functionality has fueled my creativity and driven my efforts to facilitate change and improve lives through design. The idea of Geekey came to me after the many times I found myself without the "one tool I needed" when mountain biking, exploring the outdoors, or even working around the house or in my design shop. I knew there was a design within me that could encapsulate the abilities of a traditional mutli-tool and offer additional features essential for modern life. I wanted it to be beautiful, portable, and easy. Geekey speaks to us all – the DIYer, the athlete, the outdoorsman, the auto enthusiast – everyone. You WILL use this tool, likely every day.
Geekey was designed to be small, portable – kept on your keychain, and versatile. It allows us all to do more with less.
Thank you for checking out Geekey's debut campaign. Enjoy!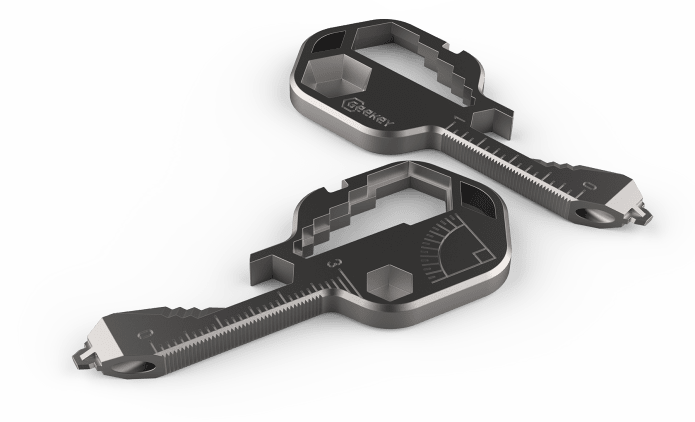 TOOL FEATURES
Geekey is a solid chunk of 17-4 Stainless Steel featuring over 16 tool functions that eachprovide multiple uses.  Geekey's durability and ultra compact design allow it to be an easy companion for your every day carry.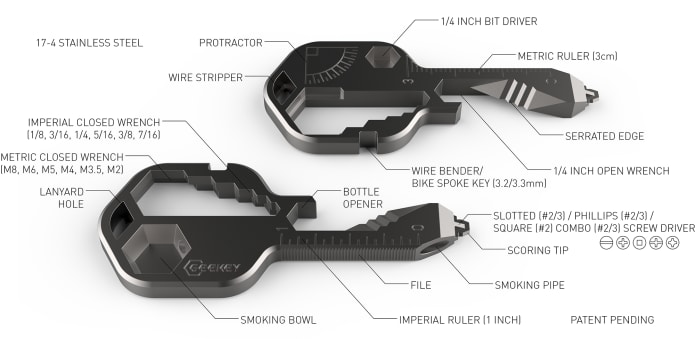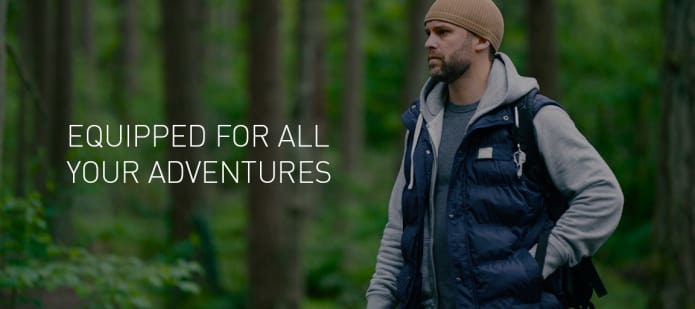 BIKE SPOKE KEY
Geekey features a 3.2/3.3mm (0.127 inch) standard open spoke wrench that easily fits in between bike wheel spokes to rotate the spoke nipple.  When riding on the trail, you're equipped when you need it.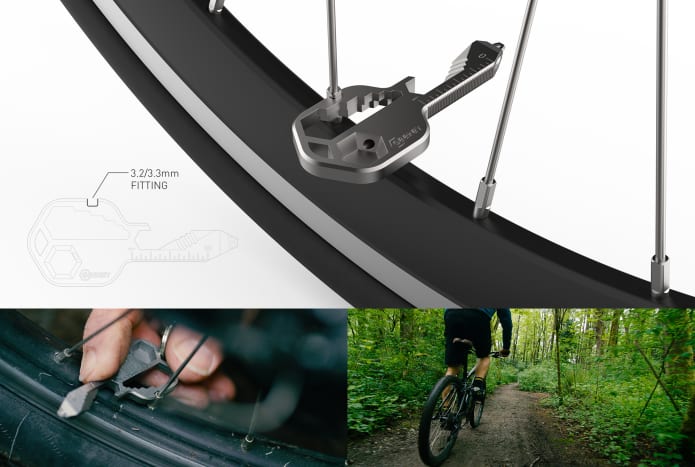 MULTI-FIT DRIVER
Geekey features a new patent pending screw driver tip that will fit a #2/3 Slotted, #2 Square Drive, #2/3 Phillips, and #2/3 Combinations (Phillips/Slotted or Phillips/Square) screw all in one bit.  The unique geometry is designed to allow maximum occupancy in any one of these given screw types.  This multi-fit driver was born to do the everyday small tasks quickly and conveniently on the most common screw styles on the planet.  Just another way the Geekey does more with less.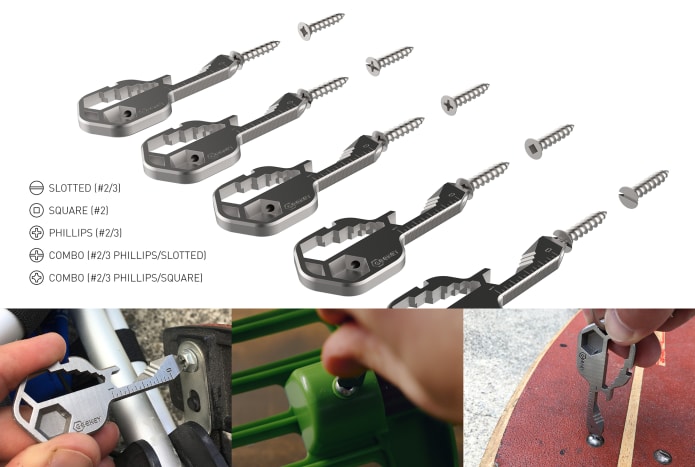 BOTTLE OPENER
Geekey is equipped with a bottle opener that can open any stubborn cap in a pinch…it's a must have feature in any key chain tool and this job made it on the priority list.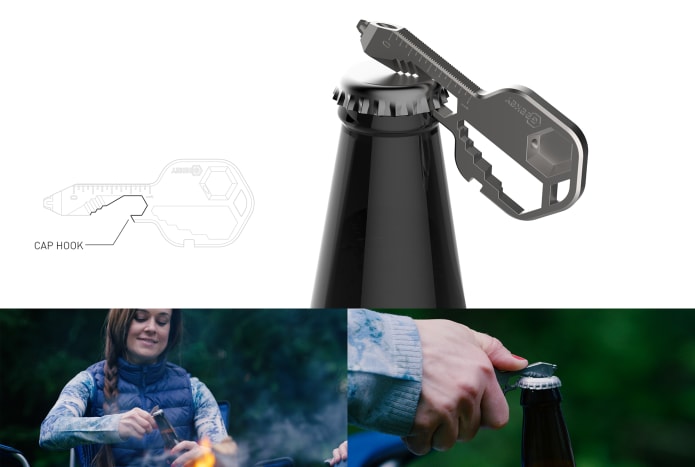 SMOKING PIPE
Geekey lets you discreetly enjoy your favorite legal indulgence through the use of its built in pipe. Whether you're out in nature, enjoying a friends company, or just kicking back on a Sunday afternoon, you'll always be equipped.  Geekey has a 7/16 inch bowl with a mouthpiece exiting the small tip of the tool.  Geekey can easily be cleaned and is dishwasher safe.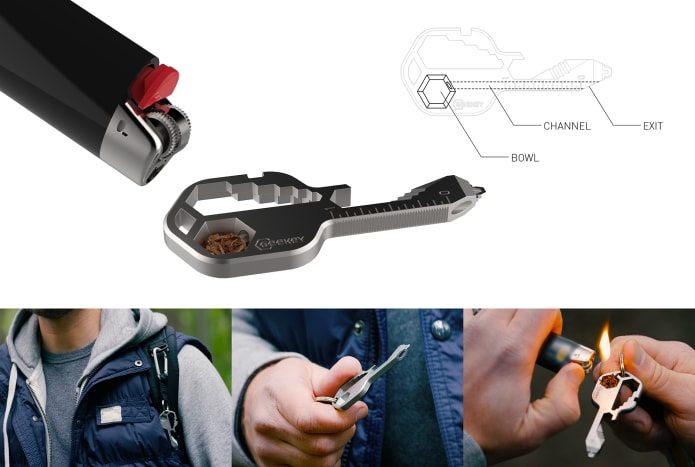 MULTI-HEAD FIT
Geekey's tip is designed to fit many different screw head styles.  The driving tip can fit Pan Head, High-Profile Fillister Head, Flat Head, Binding Head, Oval Head, Hex Head, Round Head, Low-Profile Button Head, and Large Diameter Truss Head.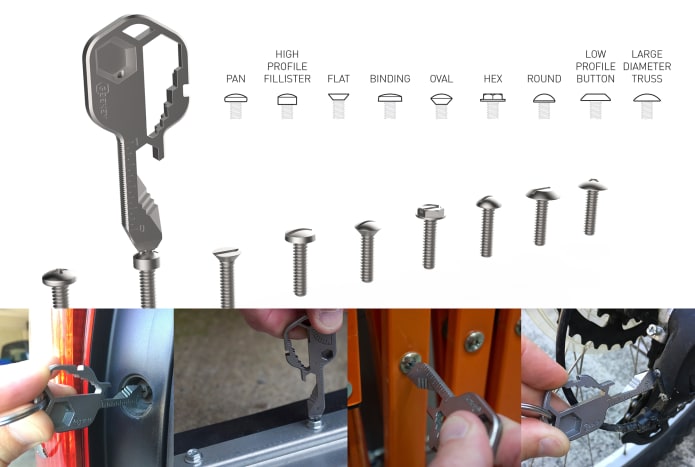 CLOSED WRENCH
Geekey features a new patent pending closed wrench where it has combined both Metric and Imperial sizes into one.  The overall thickness is divided equally for the closed wrench allowing enough depth for adequate torque on hex bolts and nuts.  The Imperial side fits 1/8, 3/16, 1/4, 5/16, 3/8, and 7/16 inch hex sizes.  The Metric side fits M8 (13mm), M6 (10mm), M5 (8mm), M4 (7mm), M3.5 (6mm), and M2 (4mm) hex sizes (Note: 13mm also fits 1/2 inch). With this design approach the parallel fit won't destroy the hex head shape when tightening or loosening.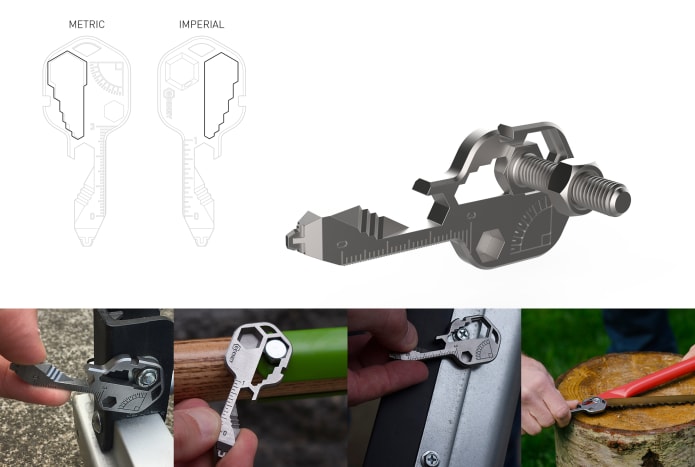 BIT DRIVER
Geekey is equipped with a standard ¼ inch hex pocket that will fit any desired bit.  The pocket allows the user to apply high force while rotating the bit.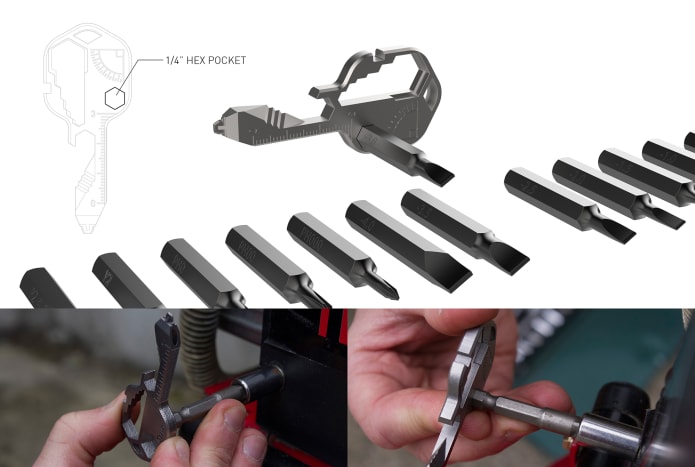 SERRATED EDGE
Geekey features an enclosed serrated edge to cut just about any small plastic line, twine, rope, thread, fishing line, lace, leather or paper – great for envelopes.  With the serrated edge being enclosed, Geekey is TSA compliant for carry on.  I've personally checked and carried Geekey on multiple commercial flights.
SCORING TIP
Geekey is equipped with a scoring tip that can score pretty much anything. The scoring tip can be used for box cutting, plastic clamshell cutting, sealed foil bottle cap cutting, clear tape starter, pill splitter, knot opener, staple puller, lotto ticket scratcher, pop can tab opener, air stem deflater, zip tie releaser, general scraper, etc…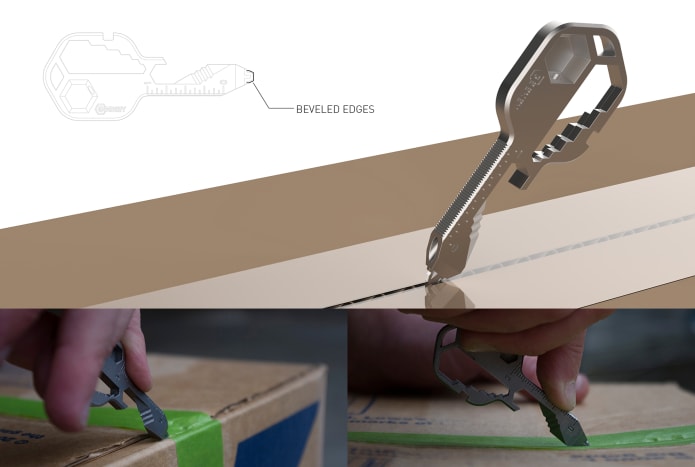 WIRE STRIPPER
Geekey is equipped with a 30° corner slot and angled inner edge that provides a sharp wedge that will strip many various sizes of wire.  If you can fit the wire through the hole, chances are you will be successful in removing the sheath.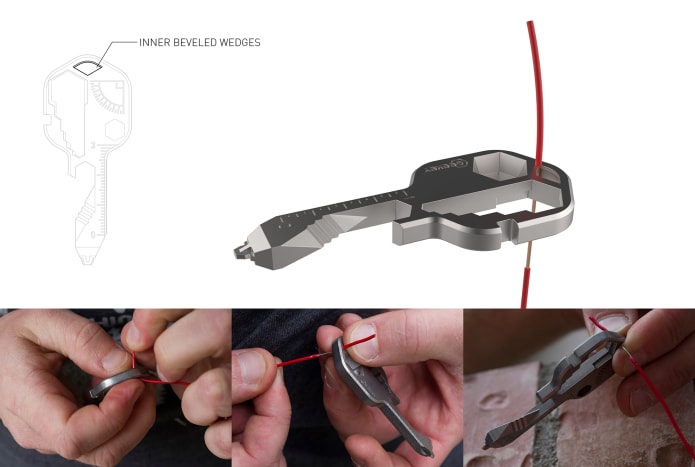 CAN OPENER
Geekey has the ability to open a standard metal paint can in multiple sizes.  The geometry of the tip is designed to properly fit under the lid lip to pry the can open.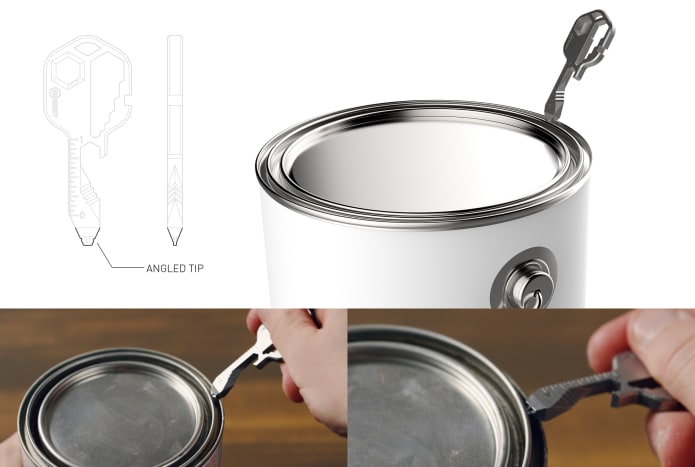 MEASUREMENT
Geekey is equipped with a 90° protractor, a 1 inch ruler, and a 3 centimeter ruler.  This versatile measuring tool allows the user to have a measurement device on hand for all those quick checks.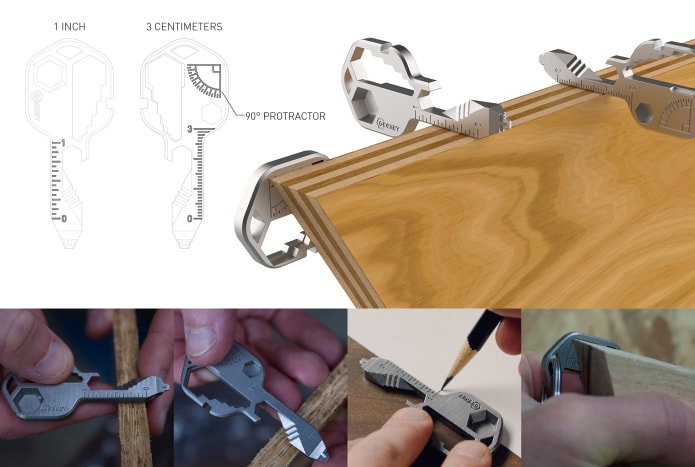 OPEN WRENCH
Geekey features a standard ¼ inch open wrench that allows the user to freely move the wrench in desired positions while tightening or loosening a fastener.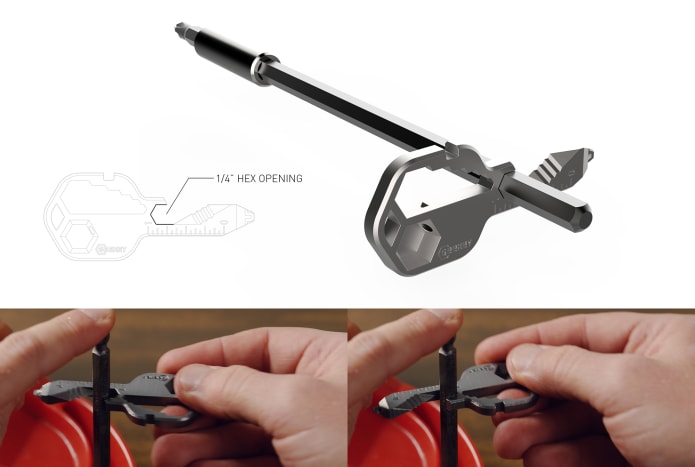 FILE
Geekey has a linear edge file that can be used to file just about anything.  It can file wood, metal, plastic, you name it.  The file can smooth any edge in a pinch.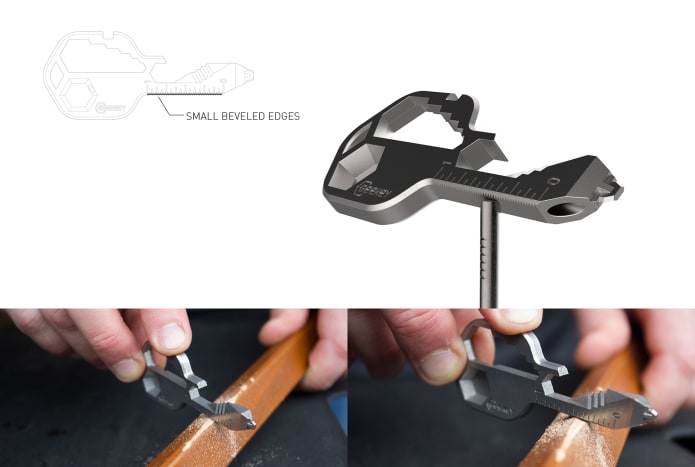 LANYARD HOLE
Geekey has a top center hole to link to any desired modality such as a key chain ring or tether.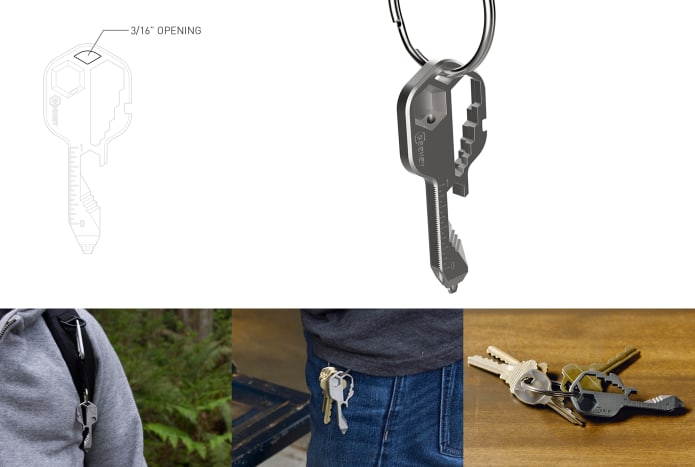 WIRE BENDER
Geekey's open spoke wrench can also perform as a wire bender.  The open profile can fit a wire 3.23mm in diameter or smaller.  If you can fit the wire in the opening, chances are you will be successful in achieving the desired tight bend.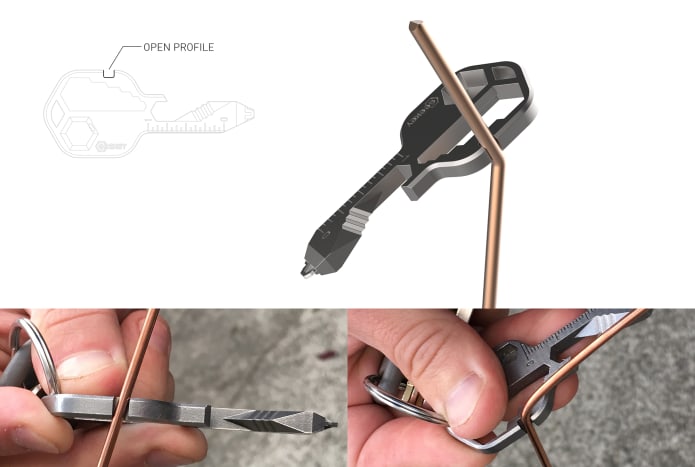 GEEKEY EXPERIENCE
A day in the life of Geekey. Whether you're out hiking on the trails, fishing at the lake, biking at the summit, camping at the basin, doing a few tasks around the house, or just hanging out with friends, you'll always be prepared.
WHERE DID GEEKEY COME FROM?
As a big multi-tool fan and user I have always loved the idea of having multiple tools at my fingertips, but often have been left wanting more from the offered features on many existing multi-tools. Many of the available tools have been designed to do a very limited number of functions well and are often compromised due to size and over complexity. After many conversations with my fellow DIYers, adventures, athletes, neighbors, I learned I was not alone – we were all seeking a better multi-tool. It was then I set out to design a multi-tool with high functionality and a wide versatility of features housed in an ultra-compact architecture that could easily fit into a place of no burden for an everyday carry.
DESIGN APPROACH
I wanted a design that was first accessible; always there when you needed it and to do that needed a design that was portable and almost hidden in plain sight. I derived inspiration from the common, hexagon shaped key already carried by most of us. The next step was appropriately placing the "must have" functions into the given key profile and keeping it as compact as possible.  In many ways, the multi-tool designed itself.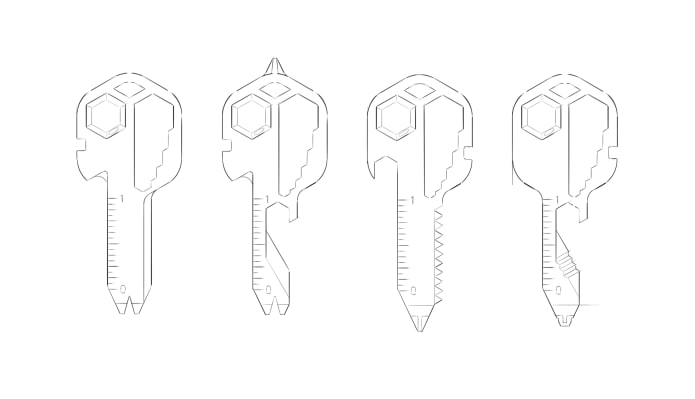 BRAND IDENTITY
Identity is important.  Developing a clean, concise, and consistent message with your brand is monumental in establishing an identity and building trust.  The logo should reference the product and have design subtleties that help convey the message.  Below is an iterative process of how the Geekey logo was developed.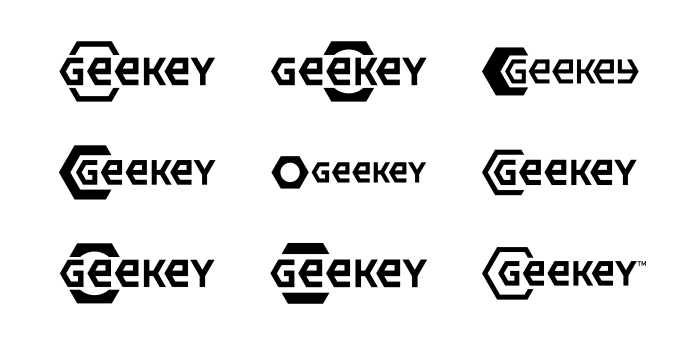 DEVELOPMENT
Geekey was developed using an iterative design process globally practiced in industrial and product design.  Designs were first sketched and then built in CAD to create prototypes for 3D printing.  Prototypes were 3D printed in plastic and metal, then measured, tested, and refined until every detail performed its job perfectly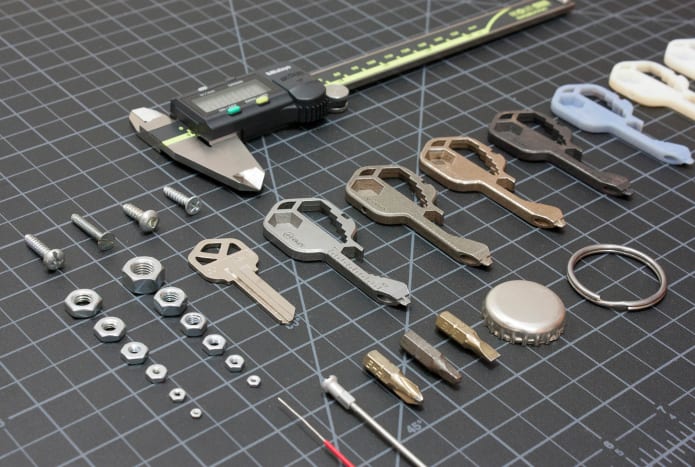 TESTING
Once the final metal 3D printed prototypes were finished, Geekey was put to the true test by living on our team's keychains for a few weeks. Geekey accompanied me on my own summer travels and was put to the test through daily hacks – every obstacle or new environment was an opportunity to test, reflect, and refine. The versatility and consistent, quality results Geekey provided to our testers showed us it is ready to be introduced to consumers.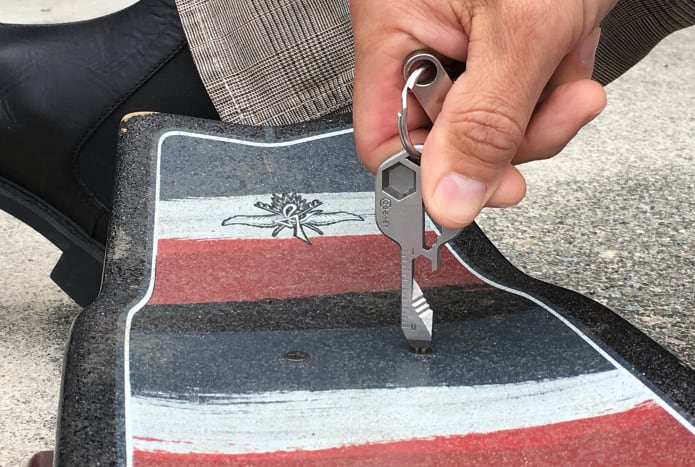 SPECIFICATIONS
Geekey is made from a single piece of 17-4 Stainless Steel made from Metal Injection Molding (MIM) and is heat treated to H900. Both the material and injection process were selected to ensure that Geekey could withstand a lifetime of use.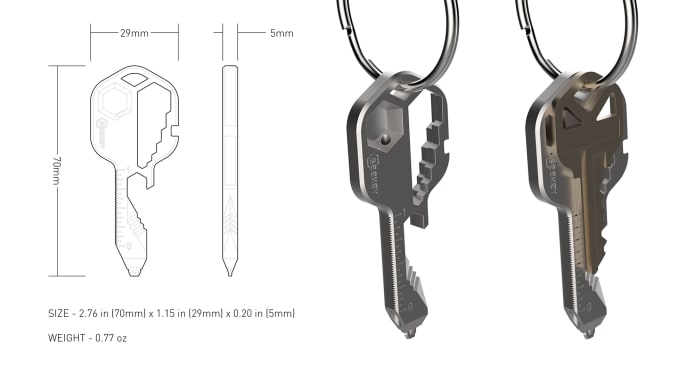 INDIEGOGO THE REST OF THE WAY
Here is where YOU come in. For an independent design studio to take their passion to market comes with many challenges, one of the largest being cost. Indiegogo is great way to introduce a product to the world, validate its need and public appeal, and help to spread enthusiasm and raise the funds essential for making Geekey a market reality.
The team is in place, the next steps have been thoughtfully researched and planned, and thanks to the resourceful, innovative, collaborative spirit of team Geekey, we're confident about our ability to move swiftly and wisely.
The power of Indiegogo and its community of believers can help overcome the challenges. It's the Indiegogo community that allows designers, entrepreneurs, and visionaries the ability to bring their solutions and ideas to the world. Please help us help everyone to do more with less.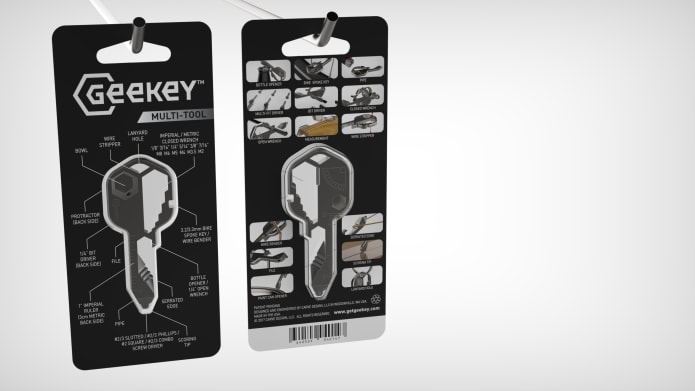 WHERE THE FUNDING WILL GO
As you know new products take a lot of time and money to develop and deliver. Below are the main areas where your pledge will be spent to make Geekey a reality on today's consumer market.
Tooling and Development.  The tooling and development costs will be approximately $38,000 for Metal Injection Molding (MIM) of the current Geekey design.
Minimum Order Quantities (MOQs).  The minimum order quantities often run in the thousands for factories to start creating a part.  Currently, the minimum order for Geekey is 4000 units.
Packaging.  The cost of packaging is often a fraction of the cost, but still needs to be accounted for when manufacturing thousands of units.
Shipping.  The cost of shipping can be very high depending on
where the products final destination is.
Patents.  Patents are costly to protect intellectual property (IP).  Even the simplest of  products can have a very high cost to file conventional patents.
Trips.  For product production there will be multiple trips involved to the stateside supplier in order to see that all the design details are achieved.
STRETCH GOAL
If the Geekey campaign raises twice the $75,000 goal (totaling $150,000 raised) we will simultaneously begin tooling for our next product to be pre-ordered in the Geekey family, the Multi-Fit Hex Bit.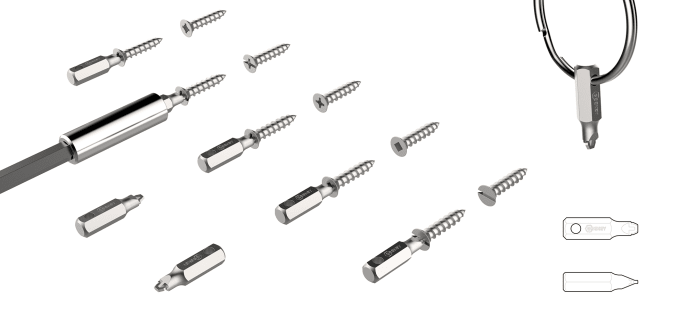 CHALLENGES
Manufacturing a product will always have its share of challenges and there are often discoveries once stepping into the production phase. The most complex feature of Geekey is the long channel (hole) running through the length of the product.  Due to the strength and solidity of the 17-4 Stainless Steel, it makes it very difficult for the most common manufacturing methods of metal (such as machining or casting) to create this long channel through the body and achieve the precision needed.
The prototype in the pictures was created with a process called DMLS (Direct Metal Laser Sintering), which is basically 3D printing metal, but is not ideal for mass production as it would be too expensive to produce even in high volume ($498 for the cost of one).
After a lot of research and communication with many manufacturers, we have selected a manufacturing method with a local (Portland, OR) manufacturer for high volume metal parts called Metal Injection Molding (MIM).  We're exciting about this fascinating process and is often used for parts that are too complex to machine, but demand precision. With its long channel, this method is the perfect solution for manufacturing Geekey. This type of tooling is costly, but manageable and necessary, and will ensure that no aspects of the design will be sacrificed.
The tooling, or MIM process, is why our fiscal goal is large and the goal MUST be met for Geekey to be manufactured. So, if you are intrigued, pledge, join us on this incredible journey, and help put Geekey in the hands of modern geeks everywhere.
While we are beyond grateful for your pledge, there is more you can do. Help spread the word about Geekey through your various social media platforms. The power of social media is great and with greater exposure comes greater opportunity and possibility for the Geekey campaign.
From me, Geekey's founder, designer, every day man and father, and our entire team, THANK YOU.
FREQUENTLY ASKED QUESTIONS
1. When will Geekey(s) ship?
After the campaign is complete the Geekey(s) are expected to ship within 12-15 weeks.
2. Are there custom engraving options for Geekey?
Currently we are working towards tooling before setting up custom engraving options.
3. Will Geekey pass airport security?
Yes. Geekey is TSA compliant for carry on.  I've personally checked and carried Geekey on multiple commercial flights.
4. How will domestic and international shipping costs be covered?
Shipping costs will be added during the pre-order transaction.
5. Does Geekey come in a non-pipe version?
Currently, there is only one Geekey design available, but if highly successful, there will be additional versions made, including a non-pipe version.
6. Is the Geekey magnetic?
Yes, but it is not a magnet itself.
Awesome Idea
A new disruptive multi-tool for the modern geek